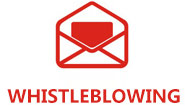 Hotline:
+ 86-512-66616393
Email:
tousu@neway.com.cn
Internal Audit Department,No.666 Taishan Road,New District,Suzhou,P. R. China

commercial activities. If you notice any such issues in relation to Neway employ-ees, please don't hesitate to let us know through the fllowing channels listed on the left.

These channels are designated only for lodging complaints in relation to suspect-ed violations of laws and regulations or improper behaviors of Neway employees in commercial activities. Please do choose the right channel so that your com-plaints will be fllowed up.

You are free to choose any whistleblowing channels, and you have the right to report anonymously while making the whistleblowing report. We suggest you provide complete information. Any information included in the whistleblowing report and your personal information shall be kept in a strictest confidence in Neway. Neway have taken relevant measures to ensure the security and confiden-tiality of such information.

Neway will, to the extent permitted by law and policies of Neway, investigate and collect the evidences based on the information provided by you. If you would like to leave your valid contact information, Neway will give you feedback within 10 business days after receipt of the whistleblowing report.

Neway reserves the rights to pursue any relevant legal actions against the whis-tleblowers providing knowingly false information or fabricated evident, or making any offensive or defamatory statement maliciously about any employee of Neway. In addition, retaliation against whistleblower, witness and investigator is strictly prohibited in Neway, Neway will take the strictest action against those have conducted the retaliation.